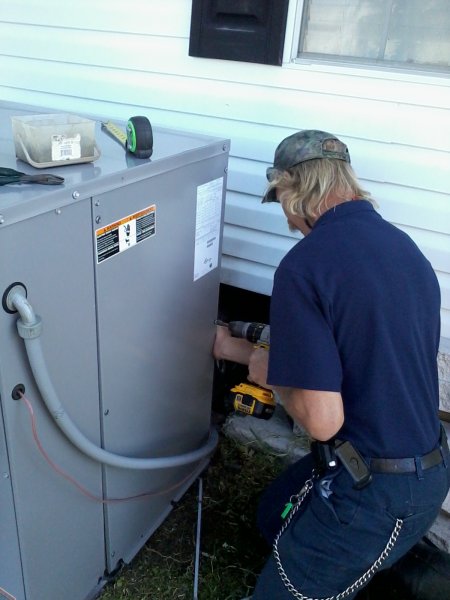 Ridge Air Conditioning is a family-owned and operated HVAC company that has been providing both residential and commercial HVAC services in Florida for 60+ years. Having an AC problem can be a hassle, especially if you live in a hot and humid place like Lake Wales, Florida. Don't let a broken AC unit ruin your day — let us help! We're the number one choice for AC repair services in Lake Wales. We'll have your systems fixed in no time to ensure you're not melting in the heat.
AC Replacement & Installation
If you need a replacement AC unit, you've come to the right place. Ridge Air Conditioning. We only carry air conditioners from the most trustworthy brands. We'll work with you to decide what cooling system suits your needs and budget and we have experience installing HVAC units on all types of properties.
Why Choose Ridge Air Conditioning, Inc.
If you want an AC unit that will last for years, choose Ridge Air Conditioning. There are other AC repair services in Lake Wales, Florida, but our company has a history of excellence dating back to 1960. We're staffed by highly trained technicians with the expertise to diagnose all heating, ventilation, and air conditioning concerns in both residential and commercial locations.
Our company also has its own sheet metal shop, which allows our skilled technicians to build customized ductwork, sheet metal covers, drain pans, and more at the customer's request. We believe in providing top-notch service, and we always make sure that our customers are satisfied with our work.
Other Residential and Commercial HVAC Services for Lake Wales
Commercial HVAC Services
In addition to providing residential services, we also provide commercial HVAC services. A broken air conditioning system can seriously impact your business' bottom line. The last thing you want is customers complaining about the temperature of your space. Whether it's your AC unit, your freezer, or your cooler, it'll seriously throw a wrench into your company's well-oiled machine when it breaks down.
Luckily for you, whether you need heating repair, custom duct work, or walk-in cooler and freezer repair, you can count on Ridge Air Conditioning in Lake City, Florida, and the surrounding areas for all of your commercial AC repair needs. We install, repair, and provide routine maintenance for the following in your commercial space:
Routine HVAC maintenance can save you from major problems in the future. The last thing you want is a broken AC unit in the middle of the summer. We're here to help you with all your residential HVAC problems. Routine maintenance will make your air conditioning system function at its best and last longer, saving you money in the long run. We offer installation, repair, and routine maintenance for the following:
Traditional air conditioning units
Central air systems
Mobile home heating and cooling
Pool heat pumps
Residential duct work
Ridge Air Conditioning is the answer to all your home and office cooling and heating needs. Give us a call at (863) 453-3453 or reach out via our contact page for a free consultation!